AETI to present Quadra at major diocesan conference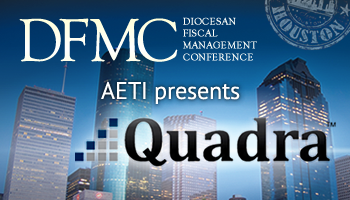 Advanced Enterprise Technologies, Inc, (AETI) will introduce Quadra, its newest exposure management software, to insurance and financial professionals at the upcoming Diocesan Fiscal Management Conference in Houston, Texas. Scheduled for September 23-26, this major meeting will bring together representatives from over 200 dioceses nationwide.
Sessions will explore financial issues specific to Catholic churches including property insurance, employee health benefits, workers' compensation, fundraising, and socially responsible investment management.
As a company that already has a number of dioceses as clients, AETI is well positioned to present Quadra to the ecclesial professionals in attendance. Quadra was built specifically to streamline insurance-related tasks and to analyze data quickly. These benefits are extremely advantageous to churches that very often have understaffed financial departments.
Since Quadra can automate many tasks, it is appropriate for many types of organizations, both nonprofit and corporate. AETI is offering free online demonstrations of Quadra for industry professionals. For additional information or to schedule a demo, please click here.
To learn more about the upcoming Diocesan Fiscal Management Conference please click here.