A Summer of Quadra Enhancements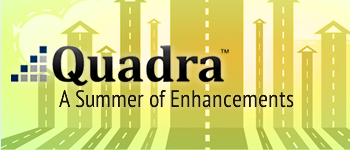 With the fall season upon us, we're pleased to highlight a number of improvements and an array of new features added to Quadra this summer. These enhancements mean more security, flexibility, and functionality for the user.
In the Accounts Receivable module, users can now edit journal entries, enter invoices, and enjoy greater control through the new fund administration page. In addition, Accounts Receivable provides a duplicate check number warning and additional reconciliation reporting.
In the Property & Liability Certificates module, users now have the ability to produce ACORD 24, ACORD 27 and ACORD 28 property certificates and policies. New security rights allow administrative users to edit certificate special conditions without generating an approval email. Plus, the new "Certificate Approval Required" email contains additional certificate information for more clarity.
Quadra offers new features for greater usability. The Administration module has the ability to show/hide system administration features and the Other Exposures module was updated to run off of user rights instead of user group. In the Accounts module, a new "Move" feature allows the location in the account hierarchy to be adjusted.
A number of updates have also enhanced Quadra's display and organization of data. For greater accuracy, the Accounts module alerts the user if it finds contacts with old information after an account address has been updated. In the Structure module, "Show all columns" now includes construction information and site identifier, providing a more complete picture. For the benefit of users with a technical question, "Help" documentation has been added for all modules under Assets (Vehicles, Structures, Other Exposures, Items, etc.) and for a portion of the Account modules. This function is context-sensitive, meaning the help guide will immediately open information relevant to that particular section.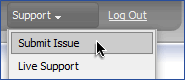 Since AETI is committed to providing the best solutions possible, feedback is always welcome. If you happen to find an issue or want to suggest a new feature simply click on the "Support" menu item and select "Submit Issue". We will review the issue and contact you if we have any questions.
Subscribe to our newsletter
Tags
Conferences

(26)
Holiday Card

(12)
NetInfoNow

(1)
New Features

(36)
Quadra

(96)
Software Releases

(68)
Tech Insight

(13)
Tutorials

(15)
Archives