AETI Launches Quadra at RIMS 2012
April 16, 2012
Philadelphia, PA
Conferences
,
Quadra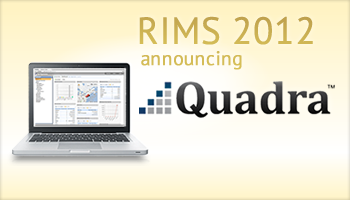 AETI announced the launch of Quadra, its newest asset management software, during the 2012 Risk and Insurance Management Society's annual meeting, which took place April 15-18 in Philadelphia, PA. With over 10,000 professionals in attendance, the conference provided a major forum for industry leaders to discuss best practices, future trends, and the latest innovations available to support risk and insurance operations.
Of the innovations showcased at RIMS, Quadra was highlighted as a unique system within the market for its efficient design, built-in allocation tools, and ease of use. "Financial and insurance professionals have begun to take on more strategic responsibilities within their companies", said Stephen Malloy, who led the development of Quadra. "So with our new system, we're able to help them analyze their data more efficiently, so they can make better business decisions faster".
The features of Quadra that were presented during RIMS include its streamlined user-interface, modules, and options for creating visual graphs of activities and trends. "Ultimately, Quadra will allow risk managers to transition into their expanding roles more easily. The industry is changing and we're ready to help.", says Mr. Malloy. Visit AETI's products page to read more about Quadra or contact us to discover what Quadra can do for you.
Subscribe to our newsletter
Tags
Conferences

(26)
Holiday Card

(12)
NetInfoNow

(1)
New Features

(36)
Quadra

(96)
Software Releases

(68)
Tech Insight

(13)
Tutorials

(15)
Archives