Report Scheduling
We've expanded our reports module to allow scheduling delivery of reports. Any report available to you may be given a recurring schedule so critical business information is delivered right to your inbox in the format you choose. Access the Scheduled Reports area from the new "Schedule" link above the reports grid or directly from a reports grid row by choosing the "Schedule" action.

Search Accounts
The Search Accounts popup has been expanded to allow searching by Street and Account Type. These fields are also now displayed in the results grid to help you more quickly identify the target of your search.
These additional enhancements are included in this Quadra release:
Pin Module Menu to the top of screen when scrolling down the page
Retain the expanded/collapsed state of the Accounts Receivable grid
The following issues are resolved with this Quadra release:
Cannot add ownership in the Accounts module
Billing Contact not in Contact Type options if one ever existed for the current client
Editing a vehicle from an account level above where the vehicle is defined causes the vehicle to be transferred
Users whose account pyramid is limited to specific accounts may see duplicates in the account tree
Non-Renew certificates are not appearing in red in the Certificates module grid
Edit Account Name causing a processing error
Aggregated Assets Report throwing a processing error if no asset types or columns selected
Users may transfer assets to "Category" Accounts, this should not be permitted
If a Vehicle Payor name contains a single quote it cannot be removed
Correct spacing on verbiage at the top of the Acord 25 (2010/05) certificate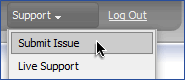 If you happen to find an issue or want to suggest a new feature simply click on the "Support" menu item and select "Submit Issue". We will review the issue and contact you if we have any questions.
Thank You!
The AETI Team
https://support.aeti-inc.com
support@aeti-inc.com
Subscribe to our newsletter
Tags
Conferences

(26)
Holiday Card

(12)
NetInfoNow

(1)
New Features

(36)
Quadra

(96)
Software Releases

(68)
Tech Insight

(13)
Tutorials

(15)
Archives