The following enhancements were added in this Quadra release:
Enhance Structure maintenance protection information to allow choosing protection values in addition to specifying percentages
Integrate Surveys module into the five asset modules
Add columns and inline search feature to the Leases module
Add Property Certificates Policy copy functionality
Improve display of Structures in the Other Exposures module
Improve display of Structures in the Items module
The following issues were resolved in this Quadra release:
Not able to view the Accord 30 policy template
Attempting to resume progress on a partially completed Survey showing file system error
Exposure History report not working
User defined fields not disabled when viewing assets - they should be read only
Resource not being released on the Accounts module home page
Specific Structure module exposure information causing an exception
Add Contact permitting invalid Contact Types
Valid dates in the Reports module causing database conversion exceptions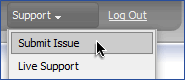 If you happen to find an issue or want to suggest a new feature simply click on the "Support" menu item and select "Submit Issue". We will review the issue and contact you if we have any questions.
Thank You!
The AETI Team
https://support.aeti-inc.com
support@aeti-inc.com
Subscribe to our newsletter
Tags
Conferences

(26)
Holiday Card

(12)
NetInfoNow

(1)
New Features

(36)
Quadra

(96)
Software Releases

(68)
Tech Insight

(13)
Tutorials

(15)
Archives