The following enhancements were added in this Quadra release:
Update the Dashboard module Other Exposures Summary element to contain better metrics
Add Fund as a parameter on the Transaction Detail Report in the Reports module
Update the Payment Importer to allow for imported Payment Method
The following issues were resolved in this Quadra release:
Editing Vehicle Registered Owner causing partially duplicated contacts
Vehicles module Edit Vehicle Owner causing an exception
Timing out on a page with a long url causes a processing exception
The General Ledger Import Report not returning data for all client accounts
Add Vehicle Finance page not displaying consistently
Payment Importer accepting but not valuing Transaction Number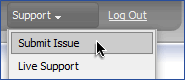 If you happen to find an issue or want to suggest a new feature simply click on the "Support" menu item and select "Submit Issue". We will review the issue and contact you if we have any questions.
Thank You!
The AETI Team
https://support.aeti-inc.com
support@aeti-inc.com
Subscribe to our newsletter
Tags
Conferences

(26)
Holiday Card

(12)
NetInfoNow

(1)
New Features

(36)
Quadra

(96)
Software Releases

(68)
Tech Insight

(13)
Tutorials

(15)
Archives