The following enhancements were added in this Quadra release:
Rolled out Help documentation for Assets modules
Created a "Move Account" feature to allow changing an account's location in the hierarchy
Centralized all e-mail logic and updated formatting to enhance look and feel
Updated the Structures "Show All Columns" results to include construction information and site identifier
Added renew certificates functionality to the certificates module
Enhanced the certificates grid to display the certificate options page when selecting the view action
The following issues were resolved in this Quadra release:
Account contacts and ownership grids not sorting properly
Certificates generated by users with "approval required" or edits to special conditions should send approval e-mail
Certificate options page displays exception when attempting to print or export
Certificate policy maintenance page "Other Company Letter (2)" should contain an "E" value
Legacy web pages causing exceptions when not authenticated, should return to login page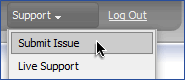 If you happen to find an issue or want to suggest a new feature simply click on the "Support" menu item and select "Submit Issue". We will review the issue and contact you if we have any questions.
Thank You!
The AETI Team
https://support.aeti-inc.com
support@aeti-inc.com
Subscribe to our newsletter
Tags
Conferences

(26)
Holiday Card

(12)
NetInfoNow

(1)
New Features

(36)
Quadra

(96)
Software Releases

(68)
Tech Insight

(13)
Tutorials

(15)
Archives