The following enhancements were added in this Quadra release:
Create standardized General Ledger Import Report in the Reports module
Add General Ledger Account Codes to the Funds page in the Administration module
Update the Reports module Transactions by Type Report to include the option to show General Ledger Account Codes
Create standardized "Clearing Account" process for all Accounts Receivable customers
Create an automated payment processor to apply transactions received from sources outside of Quadra
Add an Accounts Receivable payment processor queue and the ability to manually run the processor from the Administration module
Update 3rd party components to employ the latest version
Add a new Windows 8 inspired theme "Metropolis"
The following issues were resolved in this Quadra release:
Adjust script references throughout Quadra to remove legacy syntax and update cached content processing to improve performance
Reports module Invoice Aging Report date aged parameter not functioning correctly, update date aged parameter to be a numeric value rather than drop down
Update the Accounts Receivable module Add Journal Entry page messaging to note the ramifications of entering noncash journal entry
Accounts Receivable module UnApplied Credit grid should allow View and Edit actions and format journal entry descriptions correctly
Administration module Add/Edit Client pages not correctly formatting Fiscal Year Start value
Accounts module Remove Account feature not updating account tree
Vehicles module home page grid does not filter properly when show all columns and show dropped checked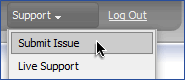 If you happen to find an issue or want to suggest a new feature simply click on the "Support" menu item and select "Submit Issue". We will review the issue and contact you if we have any questions.
Thank You!
The AETI Team
https://support.aeti-inc.com
support@aeti-inc.com
Subscribe to our newsletter
Tags
Conferences

(26)
Holiday Card

(12)
NetInfoNow

(1)
New Features

(36)
Quadra

(96)
Software Releases

(68)
Tech Insight

(13)
Tutorials

(15)
Archives