The following enhancements were added in this Quadra release:
Enhance the Administration module to allow managing Account Status and Account Type
Enhance the Reports module by adding new parameters to the Open A/R and Invoice Aging reports
Update the Administration module client management pages to automatically resize uploaded images
The following issues were resolved in this Quadra release:
Liability Certificate Acord 25 (2010) GL description two field incorrectly formatted
Adjust database processing of client settings to utilize updated implementation
Apply Credit "Apply" function not working in the Accounts Receivable module
Reports module date controls display duplicate July 31st date
Certificates module Liability Certificates displaying blank images
Property Certificates displaying red X over all field values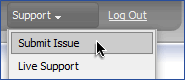 If you happen to find an issue or want to suggest a new feature simply click on the "Support" menu item and select "Submit Issue". We will review the issue and contact you if we have any questions.
Thank You!
The AETI Team
https://support.aeti-inc.com
support@aeti-inc.com
Subscribe to our newsletter
Tags
Conferences

(26)
Holiday Card

(12)
NetInfoNow

(1)
New Features

(36)
Quadra

(96)
Software Releases

(68)
Tech Insight

(13)
Tutorials

(15)
Archives