The following enhancements were added in this Quadra release:
Update Account Status loading logic to allow client specific statuses
Enhance the Open A/R Report to include unapplied credit
Update A/R module reports to adjust unapplied credit logic to account for future invoices
Allow funds without invoices, but with payments, to appear on the A/R home page
Allow Edit of all A/R transactions, payments, invoices and journal entries
Add A/R Bill Type management area to the Administration module
The following issues were resolved in this Quadra release:
Structure Edit Values not displayed on the Edit Structure page until refreshed
Account Ownership Maintenance should load all accounts in the hierarchy
Vehicles Search page Upload is not functioning
Structures module home page grid should show structures with a future drop date in red
Remove structure page displaying addresses inconsistently
Transaction Detail Report displaying incorrect invoice dates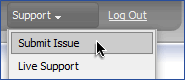 If you happen to find an issue or want to suggest a new feature simply click on the "Support" menu item and select "Submit Issue". We will review the issue and contact you if we have any questions.
Thank You!
The AETI Team
https://support.aeti-inc.com
support@aeti-inc.com