The following enhancements were added in this Quadra release:
Include additional columns on the Certificates home page grid
Include additional categories for user submitted issues
Enhance Vehicles module Change Rate feature to redirect back to Vehicles grid after saving changes
Enhance the Events module to support insurer user accounts
The following issues were resolved in this Quadra release:
Column values out of order on Structures module "Show All" grid
Add Invoice in the Accounts Receivable module causing an exception
Removing a property policy after certificates have been generated causing an exception
Certificates module Acord 28 certificate should always print 2nd page regardless of special conditions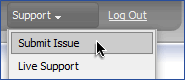 If you happen to find an issue or want to suggest a new feature simply click on the "Support" menu item and select "Submit Issue". We will review the issue and contact you if we have any questions.
Thank You!
The AETI Team
https://support.aeti-inc.com
support@aeti-inc.com