The following enhancements were added in this Quadra release:
Added ability to edit a journal entry in the Accounts Receivable module
Added duplicate check number warning in the Accounts Receivable module
Added ability to show or hide system administration features in the Administration module
Added warning when contacts exist with an old address after changing an account address in the Accounts module
Enhanced Policies module certificate policies grid to sort based on certificate last issued date descending
The following issues were resolved in this Quadra release:
Deletion of structure value causing an exception
Accounts Receivable Roll Forward Report not including accounts created in the current month
Vehicle Rate Change causing an exception
Active flag and underwriter email not available on property policies in the Policies module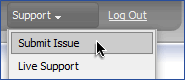 If you happen to find an issue or want to suggest a new feature simply click on the "Support" menu item and select "Submit Issue". We will review the issue and contact you if we have any questions.
Thank You!
The AETI Team
https://support.aeti-inc.com
support@aeti-inc.com
Subscribe to our newsletter
Tags
Conferences

(26)
Holiday Card

(12)
NetInfoNow

(1)
New Features

(36)
Quadra

(96)
Software Releases

(68)
Tech Insight

(13)
Tutorials

(15)
Archives