The following enhancements were added in this Quadra release:
Added ability to enter invoices in the accounts receivable module
Added accounts receivable fund administration page
Added Account Hierarchy report
Other Exposures updated to run off user rights rather than user group
The following issues were resolved in this Quadra release:
Vehicles Change Rate action listed incorrect rate selection
Edit account group listed incorrect groups
Structure Payors restricted to the current account
Accounts receivable available credits grid referencing an invalid style sheet
Editing structure occupancy type may cause an exception
Resolved JSON script exceptions that may occur in older versions of Internet Explorer
Corrected context sensitive help when viewing Vehicle Certificate of Insurance page
Renew Vehicle ID Cards Report updated to interpret message as HTML
Broker city, state, and zip not visible on Renew Vehicle ID Cards Report
New York Vehicle ID Card Report displaying a blank message
Parameter length exception on Certificate Issuance page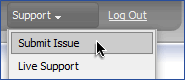 If you happen to find an issue or want to suggest a new feature simply click on the "Support" menu item and select "Submit Issue". We will review the issue and contact you if we have any questions.
Thank You!
The AETI Team
https://support.aeti-inc.com
support@aeti-inc.com
Subscribe to our newsletter
Tags
Conferences

(26)
Holiday Card

(12)
NetInfoNow

(1)
New Features

(36)
Quadra

(96)
Software Releases

(68)
Tech Insight

(13)
Tutorials

(15)
Archives