New Feature Enables Driver Background Checks
Advanced Enterprise Technologies Inc.
®
recently launched a new background check feature* available through Quadra
®
, its software solution for insurance exposure asset management. Specifically for the purpose of conducting background checks on new drivers, the system provides clients with an easy and accurate method for assessing motor vehicle records.
This new capability was developed through AETI's partnership with
Checkr
, a leading tech company that specializes in developing background check solutions. This new feature significantly enhances the Drivers module in Quadra. Once a user enters in new driver information into the Drivers module and assigns authorization types, Quadra will relay the information to Checkr, initiating the process. The candidate will then be required to enter certain details to complete the check. Within the Drivers module, users can view the background check status for each driver's authorization type.
Ultimately, clients will benefit from an integrated background check process that will save time and streamline hiring operations.
For more information on utilizing Quadra to strengthen your company's insurance program, please
contact us!
See the
tutorial video
which explores the process for running a background check: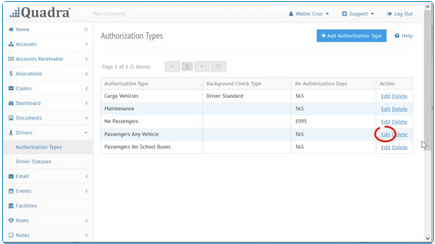 *This feature requires a per driver fee which varies depending on the state.
Subscribe to our newsletter
Tags
Conferences

(26)
Holiday Card

(12)
NetInfoNow

(1)
New Features

(36)
Quadra

(96)
Software Releases

(68)
Tech Insight

(13)
Tutorials

(15)
Archives