NetInfoNow is moving to Quadra!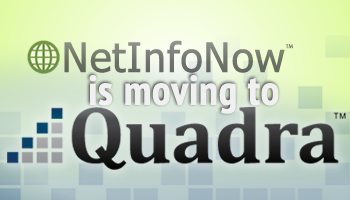 On Saturday, May 31, 2014 the NetInfoNow system will be replaced by a newer version called Quadra. This is happening because as technology changes we found the need to use a new platform to take advantage of all of the advanced functionality the more contemporary platform affords.
Accessing Quadra and Frequently Asked Questions
Accessing Quadra
Quadra is located here: https://quadra.aeti-inc.com
Will I be sent a new login?
There will be no new login. Simply use your NetInfoNow email and password, they are the same in Quadra!
Can I access Quadra now?
Absolutely. We encourage users to start using Quadra now. You will see that it works the same way that NetInfoNow does so the transition is pain free.
Where can I go to preview Quadra and see tutorials?
Quadra is rich with self-help features and includes Quadra TV where you can preview the application and get help on how to do common tasks. Access all the videos now by going here: https://www.aeti-inc.com/tv.
What about all my data in NetInfoNow?
We developed Quadra to share the same data source, therefore any data added to NetInfoNow can be seen in Quadra.
Will events work the same?
We worked very hard to make the transition as easy as possible for you. The Events Module in Quadra is very similar to the Events Tab in NetInfoNow but more robust (state-of-the-art technology at work!).
We highly recommend that you start using Quadra today. As always, if you need assistance at any time, we have online support representatives, you can email us direct or call us at 800-293-1315 and we will assist you with your needs.
Thank You!
The AETI Team
Subscribe to our newsletter
Tags
Conferences

(26)
Holiday Card

(12)
NetInfoNow

(1)
New Features

(36)
Quadra

(96)
Software Releases

(68)
Tech Insight

(13)
Tutorials

(15)
Archives