AETI to participate in meeting for diocesan professionals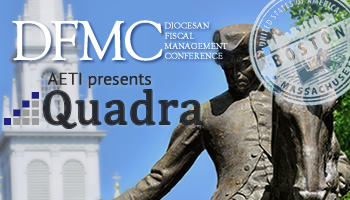 AETI is excited to announce that they will exhibit at the 2013 Diocesan Fiscal Management Conference, scheduled for September 8-11, 2013 in Boston, MA. The only conference specifically for financial professionals working in Catholic organizations, DFMC convenes annually to provide both networking opportunities and continuing education for attendees.
Having gained the Pittsburgh diocese as client earlier this year, AETI now serves the entire state of Pennsylvania. Through its software solution Quadra, AETI assists thousands of diocesan employees with their insurance management needs. "These financial professionals have extremely important roles in their parishes, and we're pleased to be able to help them with their stewardship", said Steve Malloy, CEO of AETI.
To register online for the DFMC please click here. If you plan on attending the conference, be sure to stop by the AETI booth in the exhibit hall. If you would like a demo to see how Quadra can help streamline your insurance tasks, please contact us.
To learn more about the upcoming Diocesan Fiscal Management Conference please click here.


Subscribe to our newsletter
Tags
Conferences

(26)
Holiday Card

(12)
NetInfoNow

(1)
New Features

(36)
Quadra

(96)
Software Releases

(68)
Tech Insight

(13)
Tutorials

(15)
Archives