AETI Attending 24th Annual National Catholic Winter Meeting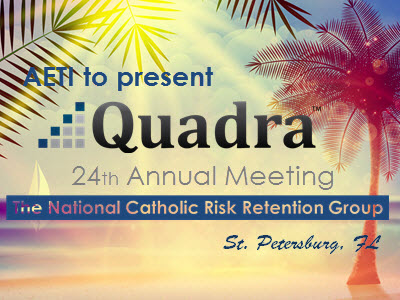 We are getting booked for attendance to The National Catholic Risk Retention Group (TNCRRG) Winter meeting in January. This year's meeting will take place in the sunny St. Petersburg, Florida. We are especially excited to escape the frigid temperatures of the East Coast and take in the warm sun while we meet with Diocesan professionals.
Every year, the Winter meeting brings together members of TNCRRG to discuss important finance and insurance matters that affect Catholic Dioceses. We will have a booth on the exhibit floor with Quadra demo stations. Attendees are welcomed to stop in and take a test drive of Quadra and its capabilities in insurance asset management and cost allocation. We encourage all to come by and say hello and check out new features in Quadra. We look forward to seeing everyone again this year!

Subscribe to our newsletter
Tags
Conferences

(26)
Holiday Card

(12)
NetInfoNow

(1)
New Features

(36)
Quadra

(96)
Software Releases

(68)
Tech Insight

(13)
Tutorials

(15)
Archives