The U.S. Open in our backyard!
June 12, 2013
Ardmore, PA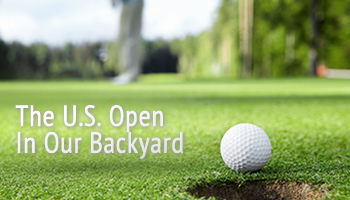 Everyone here at AETI is extremely excited about the U.S. Open, one of golf's four major tournaments, being held just eight miles from our corporate offices! As a prelude to the fun months of summer, below are some interesting facts about the U.S. Open and the Merion Golf Club in Ardmore, PA.
The tournament's practice rounds began on Monday, June 10th and the championship rounds begin Thursday, June 13th and run through Sunday, June 16th. The U.S. Open features some of the best golfers in the world including Rory McIroy, Phil Mickelson, and Tiger Woods.
For a little background on Merion Golf Club, Visit Philadelphia.com offers the following:
Merion Golf Club is a historic venue, having hosted 17 USGA championship tournaments since opening in 1896, more than any other course. Merion is where Bobby Jones completed the only grand slam in the history of golf in 1930, when he won the U.S. Amateur Championship after winning the British Open, the British Amateur and the U.S. Open earlier in the same year. No one has ever won all four majors in the same year since. (Although, Tiger Woods came close when he held all four major championships at the same time, only over two calendar years.) Other feats at Merion include Ben Hogan doing this. And Jack Nicklaus has said of Merion, "Acre for acre, it may be the best test of golf in the world."

2013 marks the sixth U.S. Open Championship to be held at Merion and the first since 1981.
Unfortunately there are no more tickets available for sale through the USGA, but if you're lucky you may be able to find some last minute championship round tickets on StubHub.com. Good luck!
Subscribe to our newsletter
Tags
Conferences

(26)
Holiday Card

(12)
NetInfoNow

(1)
New Features

(36)
Quadra

(96)
Software Releases

(68)
Tech Insight

(13)
Tutorials

(15)
Archives